Nader Chabaane
Fairmont The Queen Elizabeth
---
Originally from Tunisia and raised in Paris, Nader Chabaane is a self-taught bartender who qualifies himself as "world citizen". Passionate about cocktails, he was inspired by Colin Field, head barman of the famous Hemingway Bar in Paris. He learned the fundamentals of classics cocktails while following Field's work.
After getting his management degree in Paris, he moved to New York where he led service at Pierre's in New York Hamptons. He then moved to China to work for Starwood Hotels & Resorts, where he played a role in opening bars for the chain Le Méridien.
In spring 2011, he served as food and beverage director and head barman at La Maison Champs Elysees in Paris. A year later, he opened Blind Bar, a high-concept bar that focused on creating drinks based on the mood of customers.
Through his collaboration with famous flavor creator Sandrine Houdré-Gregoire, voted best French mixologist, Blind Bar became one of the Ten Best Cocktail Bars in France.
With this success, Nader participated in several prestigious culinary events such as the cruise Food & Wines of France, alongside great chefs like Emmanuel Renault and Christopher Hache.
Curious and inventive, he tickled the curiosity of Parisians by participating and implementing innovative concepts such as The Cigar Bar at La Maison Champs-Elysées and 'Barcaza Club Nights and Cocktails'.
In 2014, he joined the team of Fairmont Le Château Frontenac as director of mixology and spearheaded the new cocktail program at the hotel. Quickly, he made his mark in Quebec by leading Bistro Le Sam to be ranked among the best bars in the city.
Upon arrival he won Made With Love, a major cocktail competition in Canada, inspiring his staff who now competes, and wins, major competitions.
If you find yourself in Quebec City, make sure you stop by Bistro Le Sam for one of Chabaane's renowned gin & tonics. His secret? An artisanal tonic water he makes from scratch.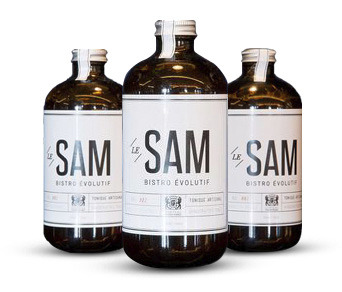 "By recreating a British Navy formula for early 1900's, I make sure that our tonic water is refreshing, tasteful, fragrant and with just the right amount of sweetness and bitterness," says Chabaane. "Rich in lemon and orange peel, but also with the addition of bergamot. It gives a nice and fresh citrus kick which will marry any gin with ease."
Finally, he embarked on the Queen Elizabeth adventure in 2016, determined to give Montrealers an experience they have never seen before. His new baby, Nacarat, has been open since July 10, 2017 and offers several unique products like the barrel-aged negroni.